Submitted by Corodon Fuller
In another world, Arnold Schwarzenegger retires from a life of fighting alien hunters, cyborg hitmen, and the California Democratic Party to settle down on a farm in the Midwest. All is quiet until suddenly… zombies!
The world of Maggie is not quite that world. Arnold's character, a farmer named Wade, is tough but no action hero. His teenage daughter, the titular Maggie (played by Abigail Breslin, grown up since Little Miss Sunshine and Zombieland), gets bitten by a zombie and it becomes Wade's responsibility to take care of her until the time comes to, well, take care of her. The result is a slow-paced and surprisingly intimate zombie movie, and one small tweak to the usual tropes turns out to make all the difference.
This isn't the first zombie story to focus on protecting a daughter figure. For instance, two major video games in the last few years—The Last of Us and Telltale's The Walking Dead—used the same dynamic. One thing that sets the Maggie zombie movie apart is that the daughter is doomed from the beginning. (We only even see the bite in flashback.) The movie's trailer, almost unforgivably, throws the word "cure" around and cuts scenes together to suggest a daring road-trip escape for Wade and Maggie. The movie is more honest about where things are going: Maggie has come home to die. The question is when she dies and how. Wade won't let the police send Maggie to a hellish quarantine; the police understandably worry that Wade won't be able to kill her himself when the time comes.
That "when the time comes" is the "small tweak" I alluded to earlier. Unlike the usual ghouls, victims of Maggie's "necroambulist virus" don't die and then reanimate as mindless cannibals. Instead, the infected gradually develop a hunger for human flesh that wears away their self-control. If there's a moment when they lose their humanity completely, Maggie doesn't show it.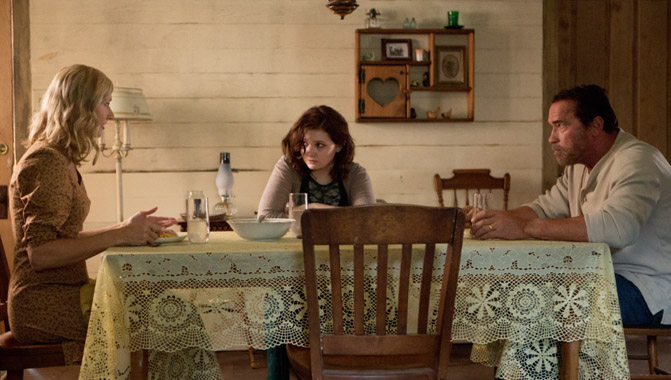 It's hard to overstate how subversive this change is. The conventional wisdom is that zombies are totally mindless—anyone who insists that their loved one is "still in there" is delusional and about to die for it. Heck, guilt-free killing is a main advantage of zombies in most media. Wade and Maggie don't get that comfort. The urgency grows steadily, but there is not a clear "right time"—only "too late." That's the engine that drives Maggie's pathos, and it puts out serious horsepower.
Making the transformation gradual also emphasizes the body horror dimension. The character this all matters most to is not Wade but Maggie. Watching Abigail Breslin's performance as Maggie wrestles with her condition is first touching then genuinely horrifying. If Maggie were about AIDS or early-onset Alzheimer's, Breslin could reasonably expect Oscar buzz for her performance. Sadly, we are probably years away from the Academy recognizing someone for playing a zombie.
As one might expect, looking sad is the primary demand this movie places on Arnold Schwarzenegger's acting abilities. Mostly he filters Wade's sadness through stone-faced Midwestern stoicism, which at least conveys the weight of what he's going through. In a few lighter moments, his endearing fatherly rapport with Maggie generates some of the movie's only humor.
I'm really proud of my new film, Maggie. This is the most human zombie film you've ever seen, and it's the most human role you've ever seen me take on. My co-star, Abigail Breslin, is absolutely incredible in the title role, and our director, Henry Hobson, made a beautiful film. – Arnold Schwarzenegger
Credit is also due to Maggie's first-time director, Henry Hobson. Hobson has made a name for himself designing evocative title sequences for properties including, appropriately enough, the first season of The Walking Dead and The Last of Us. It makes sense, then, that he filled every shot of Maggie with ominous Dust-Bowl ambience and peppered it with clever visual foreshadowing.
If you come to the zombie genre for the eviscerations, Maggie probably isn't for you. For a zombie flick, it's short on gore and long on introspection. If you come to the genre for emotional stories driven by the inevitability of death personified, Maggie is one of the best offerings of the new wave. The basic story is one the genre touches on a lot but rarely gives the attention it deserves. By keeping its focus on Maggie's story, this movie tells it better than anyone else.
If you want to check Maggie out, you might be dismayed to find that it's only in a limited theatrical release. However, it's also available to stream from Amazon. Ticket prices being what they are, that may be just as good.